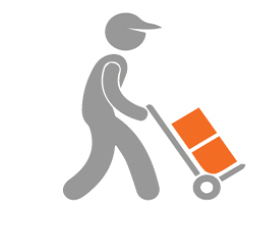 ONE MAN DELIVERY SERVICE
Please Note: There is no need to pay for a full two man service when delivering products that don't require an upstairs delivery.
Why use Kinetic logistics 1 Man logistics?
● You submit your delivery request online (via our portal) alternatively, we can set up EDI to automate this whole process for you.
● We collect from your supplier (FREE of charge)  our driver barcodes the items for you.
● All deliveries are booked in by text message and email (2-3 days prior to delivery) providing customers a three hour time slot.
● When the goods are loaded onto the vehicle a 'personalised' reminders are sent, including a link for delivery tracking.
● You will receive an automated 'dispatch notification' email and invoice when the order is dispatched to your customer.
● Our driver will give your customer a courtesy call up to 30 minutes prior to delivery.
● We will take the delivery in to a downstairs 'room of choice'.
● We obtain a 'time stamped' signature plus any other relevant information (like photographs if any anomaly occurs).
New High Speed Service
It costs 15% more (the value is added automatically at checkout)
It Reduces lead-time on average by 2-4 days
It DOUBLES the amount of book in attempts customers will receive
It works by routing the order on whichever is the fastest vehicle to the customer (whether it be a 2 man vehicle or 1 man vehicle)
LIMITATION: High speed can ONLY be applied to ONE MAN deliverable items (this is incase the fastest vehicle to the customer is a one-man vehicle)